2023 Residents
---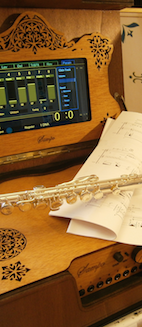 In an effort to support the creation and interpretation of contemporary music, Musinfo association organizes a residency for solo musicians who wish to transcend the sound boundaries of their instrument with the Sampo.
Intended for performers of any instrument, the Sampo is an extension whose purpose is to widen the sound field of an acoustic instrument. It allows one to deepen the musical expression in any place and in complete autonomy.
The purpose of the residency is to perform a concert. The concert program will include creations as well as repertoire pieces chosen by the performer in collaboration with Musinfo. The concert will be fully performed with a Sampo, and recorded for online publication.
Working with the Sampo does not require any previous experience in the field of electroacoustic or mixed music.
---
There will be two steps for the preparation of the concert:
1. First, a few months before the residency, a Sampo will be provided to the performers so that they can prepare the pieces.
2. Second, in order to allow the improvement of the pieces in a stimulating context, two performers will be hosted in Auch from 26 July to 1st August 2023 inclusive. During this time, the residents will take part in the masterclasses of the Sampo Academy, which will also be an opportunity to meet other performers and composers. To finish, the residency will end with a public concert including the prepared works.
---
The 2023 Sampo residency is organized with the support of