1 July 2023 in Auch, France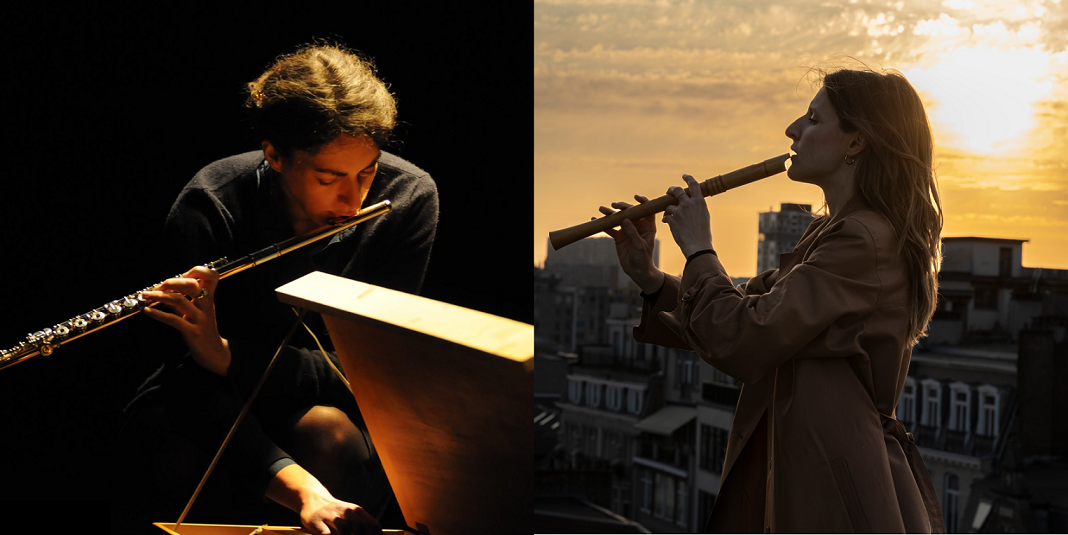 Claire Marchal and Lieve De Sadeleer are two explorers of the sound of the flute - or rather flutes in the plural! They indeed offer us a musical journey with modern, baroque, traditional flutes... all augmented with the Sampo. The Sampo is a digital extension that allows you to transform the sound of an acoustic instrument in real time, thus adding a new sound dimension to it.
The program that the two performers have designed for the Claviers en Pays d'Auch, l'été festival promises to be as rich as the instrumentarium, ranging from early music to contemporary music and improvisation.
This concert closes the artistic residency that Claire Marchal and Lieve De Sadeleer conducted in Auch in July 2023.
At 19h45 in the Cathedral of Auch. Free entrance.
---
Program:
G.P. Telemann - Fantasia Nb 6 for solo flute
Lieve De Sadeleer - The standstill after the ecstasy
Alain Savouret - Le Bal des Etrilles
Alexander Mihalič - DNA
Improvisation
Kaija Saariaho - NoaNoa
Hildegard von Bingen - Spiritus Sanctus et Vivificans Vita (version for flute and Sampo)
G.P. Telemann - Duetto for recorder TWV 43:107
---
The performers:

Lieve De Sadeleer obtained her bachelor's degree in recorder from LUCA School of Arts Campus Lemmens in Leuven, where she studied with Bart Coen and Bart Spanhove. She then embarked on an exciting journey to Brussels, where she earned her master's degree in recorder with Bart Coen, a bachelor's degree in Live Electronics with Benjamin Van Esser, and an Educational Master's degree at the Royal Conservatory of Brussels.
As a versatile artist, Lieve has been involved in various interdisciplinary projects and enjoys collaborating with others to create innovative music that transcends traditional genres. She has worked with established and emerging artists in theater and dance productions, including "Somnia" by P.A.R.T.S., Anne Teresa De Keersmaeker, and Jolente De Keersmaeker. Between 2021 and 2023 she was an artist in residency at GC De Zeyp as part of the Circuit program of N22 and at GC De Nekkersdal.
As a solo artist, she regularly performs with programs focused on recorder, live electronics, or a combination of both, where she experiments with sound. She co-founded the recorder ensemble Delle Donne Consort, which places early music in a contemporary context. In her new age trio, INNSÆI, she merges live electronics with the recorder, double bass, and jazz vocals to create a unique and captivating sound. In a concert series for young Belgian artists at Amuz, Lieve recorded a program with both early music and her own work for recorder and live electronics together with Giulio Quirici. She collaborates with artists such as Sofie Vanden Eynde, Duo Aznèm, Leonardo Melchionda, Kapellmeister, and others. Lieve has taken various masterclasses in recorder and ensemble with respected musicians such as Tomma Wessel, Fumiharu Yoshimine, Peter Van Heygen, Erik Van Nevel, Marco Magalhães, and Tom Beets. She has also learned from experts in electronic music, including Marko Ciciliani, Benjamin Van Esser, Roel Das, Kasia Glowicka, and Peter Swinnen, among others.

Claire Marchal likes to define herself as a "sounder" of flutes, so much her musical research lies primarily in the way of making flutes sound, whether they are baroque or modern instruments.
Distinguished from the conservatories she frequents, she traces her path influenced by encounters with personalities such as flautist and conductor Pierre Roullier, composers Yan Maresz and Philippe Leroux, and also specialist of the audible, Alain Savouret.
A performer in various ensembles (2e2m, Alia Mens, Muzzix), Claire looked elsewhere very early on; preferring to invent, create... Moving from early music played on historical instruments to contemporary music, free improvisation allows her to create music of the moment, solo or shared with other musicians.
Her current projects include "Mademoiselle G.L.C" (an instrumental ensemble / early instruments and contemporary music), "Hiatus" (playing with a virginal whose sounds are triggered by her movements), as well as the duo she forms with dancer Didier Silhol.
---